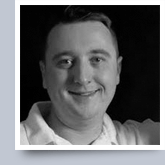 I've been designing and building web sites and marketing online for over a dozen years. I've built and sold online communities in various niches, but have decided to focus my attention, primarily, on the local level. Utilizing social media and building sites that are hyperlocal is new and exciting, but I realized that I hadn't taken the time to build and promote my personal brand. That's why I've tied my Facebook, Twitter, LinkedIn and Google+ accounts together and rebuilt this web site to explain who I am and what I enjoy doing.
While I do love working on my own sites, I am always willing to take on clients via n2o Design. Please contact me if you need a web site, or just some work done to maintain your existing site. I'd be happy to take a look and provide a quote.
Outside of web design, I enjoy spending time with my wonderful wife, son and daughter. I've been into automotive trends and events, I've had a passion for photography and I've been an avid mountain biker, among other interests.